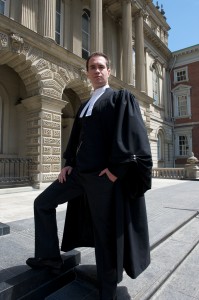 Contact Information:
daniel@fleetstreetlaw.com
Law Practice
Daniel Paul Sommers is a criminal defence lawyer.
His passion for the criminal law is evidenced by his agile and asymmetric approach to protecting the rights of his clients and finding approaches that result in positive outcomes for all concerned. Adopting an interests based approach to negotiations with the Crown, Daniel is able to avoid adversarial discourse which ultimately harms a client's interests.
Daniel also does prosecutorial work for the Crown on occasion. This experience on both sides of the courtroom gives Daniel a special insight into how to best approach his cases when defending his clients from criminal charges.
When not practising criminal law Daniel is an avid student of military history, and enjoys running, the opera, the ballet, and equitation.
Professional Associations
Daniel is a Member of the Law Society of Upper Canada, the Canadian Bar Association, the Ontario Bar Association, and the Criminal Lawyers' Association.
Education
Juris Doctor, St. Thomas University School of Law
Post-Graduate Certificate, Intercultural Human Rights, St. Thomas University School of Law
Bachelor of Arts, History and Political Science (Hons.), University of Toronto
Certificate, Alternate Dispute Resolution, University of Windsor Faculty of Law
Publications
On the Importance of Legal Officers, Canadian Bar Association Military Law Section Newsletter
A Separate Society: An Overview of American Jurisprudence & the Military Justice System, Canadian Bar Association Military Law Section Newsletter
Bar Admission
Ontario