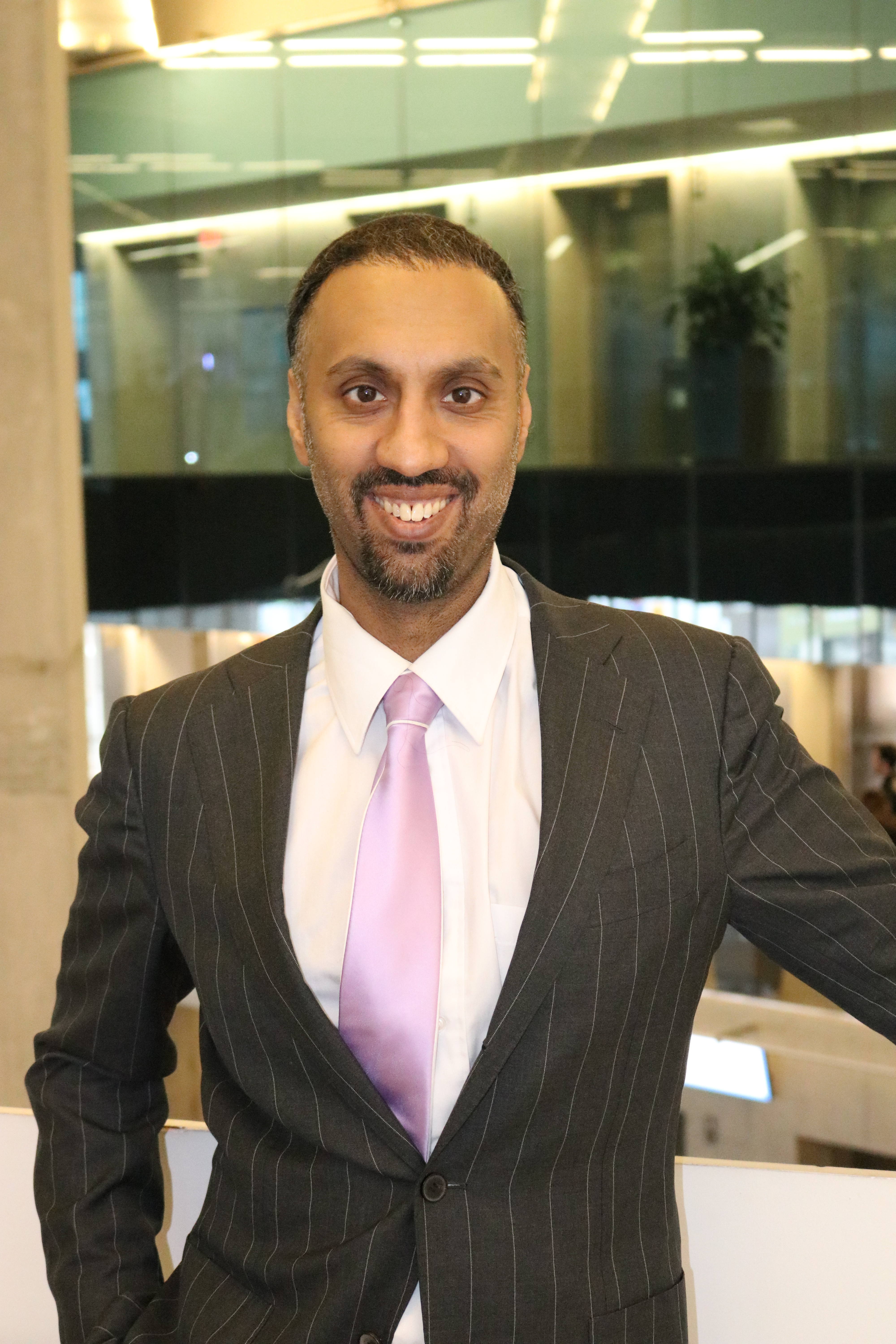 Contact Information:
omar@fleetstreetlaw.com
416-546-7412
Law Practice
Omar Ha-Redeye is a legal educator with a background in civil litigation and health law. His legal practice operates under Omar Ha-Redeye Professional Corporation.
Omar is a member of the Self-Rep Navigators, a group dedicated to helping self-reps.
When he is not teaching or practicing law, Omar offers consulting services and is a regular speaker at numerous conferences.  You can visit his personal website here.
Professional Associations
Omar is a Member of the Law Society of Upper Canada (LSUC), the Canadian Bar Association (CBA), the Canadian Association of Black Lawyers (CABL), the Federation of Asian Canadian Lawyers (FACL), the Advocates' Society and the Toronto Lawyers Association (TLA).
He currently sits on Council for both the Ontario Bar Association (OBA), and was previously a member of the now disbanded the Canadian Bar Association (CBA) Council. He is the past Co-Chair of the Ontario Bar Association's Young Lawyers Division (Toronto). Omar has sat on the Board of Directors for the OBA.
Education
Master of Laws, Osgoode Hall Law School (Health Law focus, with coursework in Advanced Trial Advocacy)
Juris Doctor, University of Western Ontario
Post-Graduate Certificate, Corporate Communications and Public Relations, Centennial College
Bachelor of Health Administration (Hons., summa cum laude), Ryerson University
Certificate, Long-Term Care Administration, Ryerson University
Associate in Applied Science (Hons.), Nuclear Medicine Technology, Ferris State University
Bar Admissions
Ontario
Additional Licenses
Certified Nuclear Medicine Technologist (CNMT), Nuclear Medicine Certification Board (NMTCB)
Radiological Technologist – Nuclear (RT(N)), American Registry of Radiological Technologists (ARRT)
Teaching
Adjunct Faculty, Ryerson University
Contract Faculty, Centennial College
Contract Faculty, Seneca College
Contract Faculty, George Brown College
Selected Publications
Medical Malpractice Juries: Time for a Re-evaluation of the Complexities, (in press)
Cold Hard Lessons from the Fleet: Innovating from the Ground Up, Windsor Yearbook of Access to Justice (in press)
Ha-Redeye, O; Latif, R; Pirzada, K, "Integrating Religious and Cultural Supports into Quality Care in the Last Stages of Life in Ontario (May 3, 2017), Improving the Last Stages of Life, Law Commission of Ontario.
Ha-Redeye, O (editor);  Chapter 5, John Morris & Kristin L. Taylor (Hospital Privileges); Chapter 11, Amy Zarzeczny, Tracey M. Bailey & Timothy Caulfield (Genetics and the Law); Chapter 12, Mark Fecenko & David J. Faye (Biotech Primer for Health Care Institutions); and Chapter 13, Patrick J. Hawkins & Jasmine Ghosn (Alternative Therapies), In Canadian Health Law Practice Manual (2017 update), LexisNexis Canada.
Ha-Redeye, O, "Class Action Intrusions: A Development In Privacy Rights or an Indeterminate Liability?," Western Journal of Legal Studies, 2015, Volume 6, Issue 1
Ha-Redeye, O, Corporate Social Responsibility as a Driver for Addressing Global Pharmaceutical Inequalities," Global Citizen Digest, 2014, Volume 3, Issue 2.
Ha-Redeye, O, "Employment Law in the Unionized Context," Introduction to Law in Canada, Captus Press, 2014
Crowne, E; Ha-Redeye, O, "Clements v. Clements: A material contribution to the jurisprudence – The Supreme Court of Canada clarifies the law of causation," Western Journal of Legal Studies, 2012 (Volume 2, Issue 2)
Ha-Redeye, O; "Litigating Family Law Economically," Ontario Bar Association, April 27, 2012
Tarantino, B; Ha-Redeye, O, "Overview: The Rules of Professional Conduct and their Application the Legal Profession Online (And Off)," Internet and E-Commerce Law in Canada, March 2012
Introduction to Reputation Management Law, Law Society of Upper Canada, November 17, 2011
Ha-Redeye, O, "Natural Disasters and the Role of GIS in Assessing Need," In Skinner, R (ed.), GIS in Hospital and Healthcare Emergency Management, CRC Press (Taylor & Francis Group) April 27, 2010
Ha-Redeye, O, "A Trial to End All Terrorism: How the U.S Could Have Won the War on Terrorism Before it Even Began, with the Trial of One Man," Windsor Review of Legal and Social Issues, Vol. 1, No. 1, pp. 109-131, April 2010
Updates to the Hazardous Materials Information Review Act, IDC Technologies, June 2009
Ha-Redeye, O, "Assessing the Needs of Health Professionals and Stakeholders," In Jirojwong, S; Liamputtong, P (Eds.), Population Health, Communities & Health Promotion, Oxford University Press, 2008
Ha-Redeye, O, "Engendering" Change in Disaster Response: Increasing Women in Leadership Roles," Gender and Disaster in Canada: New Thinking, New Direction, International Centre for Emergency Management Studies, Cape Breton University, October 31, 2006